NISSAN Vehicle Immobilizer System keys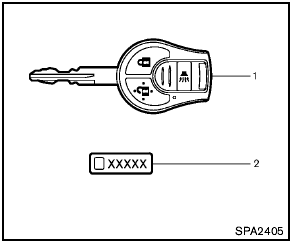 NISSAN Vehicle Immobilizer System keys
1. Master key (2)
2. Key number plate (1)
Your vehicle can only be driven with the master keys which are registered to the NISSAN Vehicle Immobilizer System components in your vehicle. These keys have a transponder chip in the key head.
Never leave these keys in the vehicle.
Additional or replacement keys:
If you still have a key, the key number is not necessary when you need extra NISSAN Vehicle Immobilizer System keys. Your dealer can duplicate your existing key. As many as 5 keys can be used with one vehicle. You should bring all the registered keys that you have to a NISSAN dealer for registration. This is because the registration process will erase the memory of all key codes previously registered into the NISSAN Vehicle Immobilizer System. After the registration process, these components will only recognize keys coded into the NISSAN Vehicle Immobilizer System during registration. Any key that is not given to your dealer at the time of registration will no longer be able to start your vehicle.

Do not allow the NISSAN Vehicle Immobilizer System key, which contains an electrical transponder, to come in contact with salt water. This could cause the system to malfunction.
See also:
INTERIOR
The Murano's interior caters to families, with everything within reach and well-placed. In the front row, the seats were comfortable and heated in my test car. The fabric upholstery looked somew ...
Controls
Automatic control button Push the AUTO button to activate the automatic climate control system for the passenger compartment. Fan control button Push the button to manually control the fan sp ...
Wheels and tires
If you have a flat tire, see "Flat tire" in the "6. In case of emergency" section. ...