Hood

- Make sure the hood is completely closed and latched before driving.
Failure to do so could cause the hood to fly open and result in an accident.
- If you see steam or smoke coming from the engine compartment, to avoid injury do not open the hood.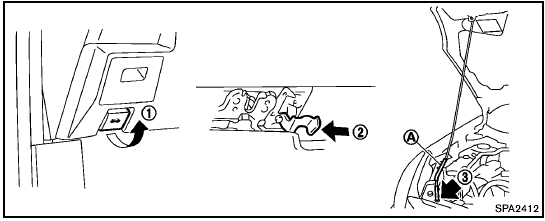 When opening the hood:
1. Pull the hood release handle 1 located below the instrument panel; the hood will then spring up slightly.
2. Pull the lever 2 up at the front of the hood with your fingertips.
3. Raise the hood.
4. Remove the support rod from the hood and insert it into the slot 3 .
Hold the coated part A when removing or resetting the support rod. Avoid direct contact with the metal parts, as they may be hot immediately after the engine has been stopped.
When closing the hood:
1. Return the support rod to its original position.
2. Slowly move the hood down to latch the lock.
3. Push the hood down to lock the hood securely into place.
See also:
Vehicle Dynamic Control (VDC) OFF switch
The vehicle should be driven with the Vehicle Dynamic Control (VDC) system on for most driving conditions. If the vehicle is stuck in mud or snow, the VDC system reduces the engine output to ...
Gasoline containing oxygenates
Some fuel suppliers sell gasoline containing oxygenates such as ethanol, MTBE and methanol with or without advertising their presence. NISSAN does not recommend the use of fuels of which the ox ...
AM radio reception
AM signals, because of their low frequency, can bend around objects and skip along the ground. In addition, the signals can be bounced off the ionosphere and bent back to earth. Because of these c ...