Changing wheels and tires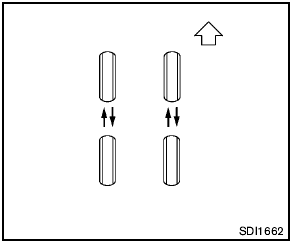 Tire rotation
NISSAN recommends rotating the tires every 7,500 miles (12,000 km). (See "Flat tire" in the "6. In case of emergency" section for tire replacing procedures.)
As soon as possible, tighten the wheel nuts to the specified torque with a torque wrench.
Wheel nut tightening torque:
80 ft-lb (108 N·m)
The wheel nuts must be kept tightened to the specification at all times.
It is recommended that wheel nuts be tightened to the specification at each tire rotation interval.

- After rotating the tires, check and adjust the tire pressure.
- Retighten the wheel nuts when the vehicle has been driven for 600 miles (1,000 km) (also in cases of a flat tire, etc.).
- Do not include the spare tire or any other small size spare tire in the tire rotation.
- For additional information regarding tires, refer to "Important Tire Safety Information" (US) or "Tire Safety Information" (Canada) in the Warranty Information Booklet.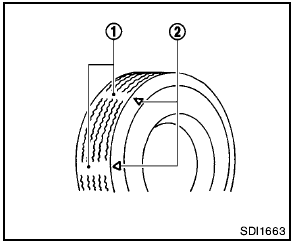 1. Wear indicator
2. Wear indicator location mark
See also:
2011 Nissan Juke review By Sara Lacey
The all-new 2011 Nissan Juke is as fun to drive as any other small, sporty car in the market. With its raised ground clearance and rally-inspired design, the Juke feels like it can go anywhere, wh ...
Injured persons
NISSAN recommends that injured persons use seat belts, depending on the injury. Check with your doctor for specific recommendations. ...
Safety chains
Always use suitable safety chains between your vehicle and the trailer. The safety chains should be crossed and should be attached to the hitch, not to the vehicle bumper or axle. Be sure to lea ...