Checking engine oil level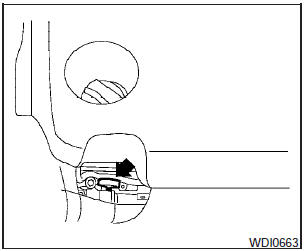 1. Park the vehicle on a level surface and apply the parking brake.
2. Start the engine and let it idle until it reaches operating temperature.
3. Turn off the engine. Wait more than 10 minutes for the oil to drain back into the oil pan.
4. Remove the dipstick and wipe it clean. Reinsert it all the way.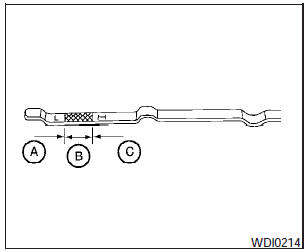 5. Remove the dipstick again and check the oil level. It should be between the H (High) and L (Low) marks (B). This is the normal operating oil level range. If the oil level is below the L (Low) mark (A) , remove the oil filler cap and pour recommended oil through the opening. Do not overfill (C).
6. Recheck oil level with the dipstick.
It is normal to add some oil between oil maintenance intervals or during the break-in period, depending on the severity of operating conditions.
CAUTION:
Oil level should be checked regularly. Operating the engine with an insufficient amount of oil can damage the engine, and such damage is not covered by warranty.
See also:
How to use the touch screen
CAUTION: - The glass screen on the liquid crystal display may break if it is hit with a hard or sharp object. If the glass breaks, do not touch the liquid crystalline material, which contains ...
Rear window defroster switch
For more information about the rear window defroster switch, see "Rear window and outside mirror defroster switch" in the "Instruments and controls" section of this manual. ...
Remote keyless entry system (if so equipped)
It is possible to lock/unlock all doors (including the lift gate), and activate the panic alarm by using the keyfob from outside the vehicle. Before locking the doors, make sure the key is not ...