Heated seat (if so equipped)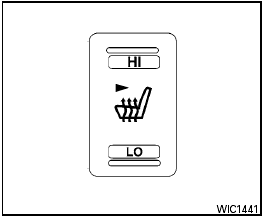 Heated seat (if so equipped)
The front seats are warmed by built-in heaters.
1. Start the engine.
2. Push the low or high position of the switch, as desired, depending on the temperature.
The indicator light in the switch will illuminate.
The heater is controlled by a thermostat, automatically turning the heater on and off.
The indicator light will remain on as long as the switch is on.
3. When the seat is warmed or before you leave the vehicle, be sure to turn the switch off.

● Do not use the seat heater for extended periods or when no one is using the seat.
● Do not put anything on the seat which insulates heat, such as a blanket, cushion, seat cover, etc. Otherwise, the seat may become overheated.
● Do not place anything hard or heavy on the seat or pierce it with a pin or similar object. This may result in damage to the heater.
● Any liquid spilled on the heated seat should be removed immediately with a dry cloth.
● When cleaning the seat, never use gasoline, benzine, thinner, or any similar materials.
● If any abnormalities are found or the heated seat does not operate, turn the switch off and have the system checked by your NISSAN dealer.
● The battery could run down if the seat heater is operated while the engine is not running.
See also:
Covered storage box
Push the center of the lid to open. ...
Underbody
In areas where road salt is used in winter, the underbody must be cleaned regularly. This will prevent dirt and salt from building up and causing the acceleration of corrosion on the underbody ...
Interior trunk access
The trunk can be accessed from the passenger side of the rear seat for loading and unloading, as shown. 1. Open the access cover on the rear parcel shelf. 2. Push down on the button on the rear p ...