Power outlet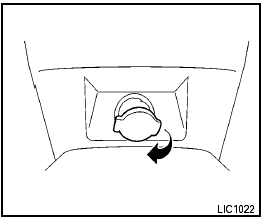 Instrument panel
The power outlets are for powering electrical accessories such as cellular telephones. They are rated at 12 Volt, 120W (10A) maximum.
The power outlet located on the bottom center portion of the instrument panel is powered directly by the vehicle's battery. The power outlet located in the console (if so equipped) is powered only when the ignition switch is placed in the ACC or ON position.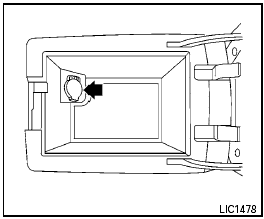 Console (if so equipped)

● The outlet and plug may be hot during or immediately after use.
● The power outlets are not designed for use with a cigarette lighter.
● Do not use with accessories that exceed a 12 volt, 120W (10A) power draw.
Do not use double adapters or more than one electrical accessory.
● Use power outlets with the engine running to avoid discharging the vehicle battery.
● Avoid using power outlets when the air conditioner (if so equipped), headlights or rear window defroster is on.
● Before inserting or disconnecting a plug, be sure the electrical accessory being used is turned OFF.
● Push the plug in as far as it will go. If good contact is not made, the plug may overheat or the internal temperature fuse may open.
● When not in use, be sure to close the cap. Do not allow water or any other liquid to contact the outlet.
See also:
Safety, Features & Pricing
The 2012 Versa sedan has not yet been tested by the Insurance Institute for Highway Safety or the National Highway Traffic Safety Administration. Per federal requirements, an electronic stability ...
Shifting
To change gears or when upshifting or downshifting, depress the clutch pedal fully, shift into the appropriate gear, then release the clutch slowly and smoothly. To ensure smooth gear changes, f ...
Avoiding collision and rollover
WARNING: Failure to operate this vehicle in a safe and prudent manner may result in loss of control or an accident. Be alert and drive defensively at all times. Obey all traffic regulations. A ...