Backing up on a steep uphill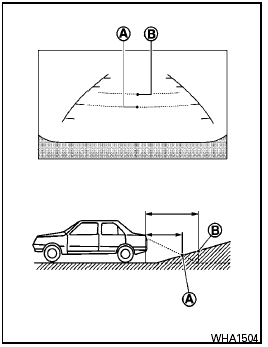 Backing up on a steep uphill
When backing up the vehicle up a hill, the distance guide lines and the vehicle width guide lines are shown closer than the actual distance.
For example, the display shows 3 ft (1.0 m) to the place A , but the actual 3 ft (1.0 m) distance on the hill is the place B . Note that any object on the hill is further than it appears on the monitor.
See also:
Traction AA, A, B and C
The traction grades, from highest to lowest, are AA, A, B and C. Those grades represent the tire's ability to stop on wet pavement as measured under controlled conditions on specified govern ...
A Cube With a View
The Cube is a few inches narrower than its boxy competitors, but it has plenty of headroom. Proving again that dimensions don't tell the whole story, the Cube's front seat could use a little more ...
Keyfob (if so equipped)
Keyfob (if so equipped) Replace the battery in the keyfob as follows. 1 Open the lid using a coin A . 2 Remove the battery B . 3 Install a new battery C with the "+" facing down. ● ...