Fuses
Two types of fuses are used. Type A is used in the fuse boxes in the engine compartment. Type B is used in the passenger compartment fuse box.
Type A fuses are provided as spare fuses. They are stored in the passenger compartment fuse box.
Type A fuses can be installed in the engine compartment and passenger compartment fuse boxes.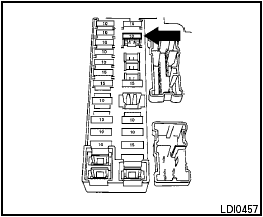 If a type A fuse is used to replace a type B fuse, the type A fuse will not be level with the fuse pocket as shown in the illustration. This will not affect the performance of the fuse. Make sure the fuse is installed in the fuse box securely.
Type B fuses cannot be installed in the underhood fuse boxes. Only use type A fuses in the underhood fuse boxes.
See also:
Aluminum alloy wheels
Wash the wheels regularly with a sponge dampened in a mild soap solution, especially during winter months in areas where road salt is used. If not removed, road salt can discolor the wheels. ...
Important information about this manual
You will see various symbols in this manual. They are used in the following ways: This is used to indicate the presence of a hazard that could cause death or serious personal injury. To avo ...
2011 Nissan Cube review
For 2010, Nissan has added another trim level to the boxy Cube, the Krom (with a long O, pronounced "chrome"). The Cube is otherwise unchanged for 2010 (see them compared), and Kelsey Ma ...