Headlight aiming control (if so equipped)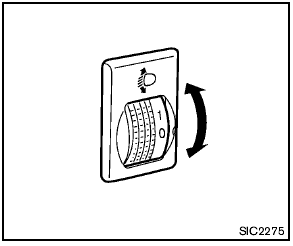 Headlight aiming control (if so equipped)
Depending on the number of occupants in the vehicle and the load it is carrying, the headlight axis may be higher than desired. If the vehicle is traveling on a hilly road, the headlights may directly hit the rearview mirror of the vehicle ahead or the windshield of the oncoming vehicle. The light axis can be lowered with the operation of the switch.
The larger the number designated on the switch, the lower the axis.
When traveling with no heavy load or on a flat road, select position 0.

Xenon headlights are extremely bright compared to conventional headlights. If the xenon headlights hit the rearview mirror of the vehicle ahead or the windshield of oncoming vehicle, the driver of these vehicles may have difficulty driving because of the brightness.
Use the headlight aiming control switch to lower the light axis. See "Xenon headlights" earlier in this section for additional information.
See also:
Freeing a frozen door lock
To prevent a door lock from freezing, apply deicer through the key hole. If the lock becomes frozen, heat the key before inserting it into the key hole or use the remote keyless entry function on ...
In-cabin microfilter
The in-cabin microfilter restricts the entry of airborne dust and pollen particles and reduces some objectionable outside odors. The filter is located behind the glove box. Refer to the "NISSAN ...
Precautions on booster seats
WARNING If a booster seat and seat belt are not used properly, the risk of a child being injured in a sudden stop or collision greatly increases: – Make sure the shoulder portion of the belt i ...