Headlight aiming control (if so equipped)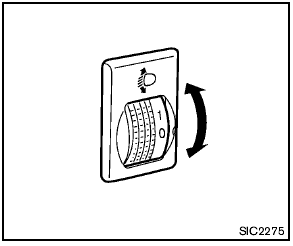 Headlight aiming control (if so equipped)
Depending on the number of occupants in the vehicle and the load it is carrying, the headlight axis may be higher than desired. If the vehicle is traveling on a hilly road, the headlights may directly hit the rearview mirror of the vehicle ahead or the windshield of the oncoming vehicle. The light axis can be lowered with the operation of the switch.
The larger the number designated on the switch, the lower the axis.
When traveling with no heavy load or on a flat road, select position 0.

Xenon headlights are extremely bright compared to conventional headlights. If the xenon headlights hit the rearview mirror of the vehicle ahead or the windshield of oncoming vehicle, the driver of these vehicles may have difficulty driving because of the brightness.
Use the headlight aiming control switch to lower the light axis. See "Xenon headlights" earlier in this section for additional information.
See also:
Shifting
Shifting To change gears or when upshifting or downshifting, depress the clutch pedal fully, shift into the appropriate gear, then release the clutch slowly and smoothly. To ensure smooth ge ...
Platform
Nissan Juke is based on Renault Nissan Alliance B-Platform and has a 2530mm wheelbase, is 4135mm long, 1765mm wide and 1570mm tall. To allow the top of the range to use 17-inch wheels and 215/55 R ...
Maximum Gross Vehicle Weight (GVW)/Maximum Gross Axle Weight (GAW)
The GVW of the towing vehicle must not exceed the Gross Vehicle Weight Rating (GVWR) shown on the F.M.V.S.S./C.M.V.S.S. certification label. The GVW equals the combined weight of the unloade ...