Xenon headlights (if so equipped)
WARNING
HIGH VOLTAGE
● When xenon headlights are on, they produce a high voltage. To prevent an electric shock, never attempt to modify or disassemble. Always have your xenon headlights replaced at a NISSAN dealer.
● Xenon headlights provide considerably more light than conventional headlights. If they are not correctly aimed, they might temporarily blind an oncoming driver or the driver ahead of you and cause a serious accident. If headlights are not aimed correctly, immediately take your vehicle to a NISSAN dealer and have the headlights adjusted correctly.
When the xenon headlight is initially turned on, its brightness or color varies slightly. However, the color and brightness will soon stabilize.
● The life of xenon headlights will be shortened by frequent on-off operation. It is generally desirable not to turn off the headlights for short intervals (for example, when the vehicle stops at a traffic signal). Even when the daytime running lights are active (Canada only), the xenon headlights do not turn on. This way the life of the xenon headlights is not reduced.
● If the xenon headlight bulb is close to burning out, the brightness will drastically decrease, the light will start blinking, or the color of the light will become reddish. If one or more of the above signs appear, contact a NISSAN dealer.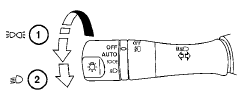 Type A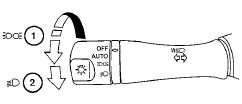 Type B
See also:
Using the system
Depress the brake pedal and hold it down. Depress the brake pedal with firm steady pressure, but do not pump the brakes. The ABS will operate to prevent the wheels from locking up. Steer the vehic ...
Exterior
The Pathfinder's styling is considered an evolution of the previous version, with short overhangs and pronounced fender flares. The rear door handles are located vertically on the C-pillars, and t ...
Interior
Nissan sticks with their usual minimalist approach to interiors and keeps things clean and sporty in the Rogue. Nearly everything in the cabin is trimmed in matte black with metallic trim. The l ...