Bird's-eye view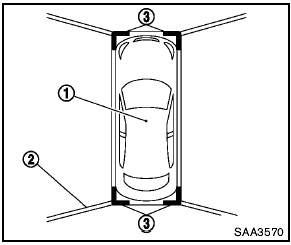 The bird's-eye view shows the overhead view of the vehicle which helps confirm the vehicle position and the predicted course to a parking space.
The vehicle icon 1 shows the position of the vehicle. Note that the distance between objects viewed in the bird's-eye view differs from the actual distance.
The areas that the cameras cannot cover 2 are indicated in black.
After the ignition switch is turned on, the nonviewable area 2 is highlighted in yellow for 3 seconds after the bird's-eye view is displayed.
In addition, the non-viewable corners are displayed in red (blink for the first 3 seconds) 3 to remind the drivers to be cautious.

- Objects in the bird's-eye view will appear further than the actual distance because the bird's-eye view is a pseudo view that is processed by combining the views from the cameras on the outside mirrors, the front and the rear of the vehicle.
- Tall objects, such as a curb or vehicle, may be misaligned or not displayed at the seam of the views.
- Objects that are above the camera cannot be displayed.
- The view for the bird's-eye view may be misaligned when the camera position alters.
- A line on the ground may be misaligned and is not seen as being straight at the seam of the views.
The misalignment will increase as the line proceeds away from the vehicle.
See also:
Air flow charts
The following charts show the button and dial positions for MAXIMUM AND QUICK heating, cooling or defrosting. The air recirculation button should always be in the OFF position for heating and ...
Aftermarket fuel additives
NISSAN does not recommend the use of any aftermarket fuel additives (for example, fuel injector cleaner, octane booster, intake valve deposit removers, etc.) which are sold commercially. Many o ...
How to select menus on the screen
Vehicle functions are viewed on the center display screen in menus. Whenever a menu selection is made or menu item is highlighted, different areas on the screen provide you with important inform ...