SPORT mode switch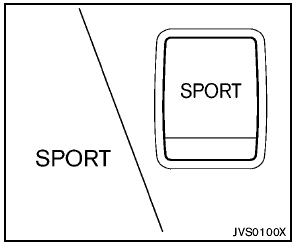 SPORT mode switch
In the SPORT mode, the engine and transmission are controlled to set the engine speed higher than in the D (Drive) position. This enhances throttle response for a "sporty" driving feeling.
To turn on the SPORT mode, push the SPORT mode switch. The SPORT mode indicator light in the instrument panel illuminates. To turn off the SPORT mode, push the SPORT mode switch again. The SPORT mode indicator light on the instrument panel turns off.
If the SPORT mode indicator light does not illuminate when the SPORT mode switch is turned on, the switch or system may have a malfunction. In this case, contact your NISSAN dealer. Even if there is a malfunction in the switch or system, this will not affect normal driving.
- The SPORT mode automatically turns off if a malfunction occurs.
- The SPORT mode only operates at speeds of above 20 MPH (30km/h).
- If the engine is switched off with the SPORT mode on, the SPORT mode resets to off when the engine is restarted.

- In the SPORT mode, fuel economy may be reduced.
- If the overdrive off mode is set when the SPORT mode is on, the overdrive off mode will take priority.
See also:
The Inside
Even though its swoopy styling might suggest limited cabin space, the five-seat Altima has sufficient room in both the front and rear seats. The optional leather front bucket seats are comfortable ...
Bluetooth streaming audio (if so equipped)
● Some Bluetooth audio devices may not be recognized by the in-vehicle audio system. ● It is necessary to set up the wireless connection between a compatible Bluetooth audio device an ...
Gasoline containing oxygenates
Some fuel suppliers sell gasoline containing oxygenates such as ethanol, MTBE and methanol with or without advertising their presence. NISSAN does not recommend the use of fuels of which the oxyge ...