SPORT mode switch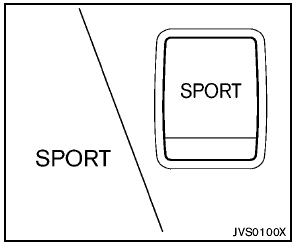 SPORT mode switch
In the SPORT mode, the engine and transmission are controlled to set the engine speed higher than in the D (Drive) position. This enhances throttle response for a "sporty" driving feeling.
To turn on the SPORT mode, push the SPORT mode switch. The SPORT mode indicator light in the instrument panel illuminates. To turn off the SPORT mode, push the SPORT mode switch again. The SPORT mode indicator light on the instrument panel turns off.
If the SPORT mode indicator light does not illuminate when the SPORT mode switch is turned on, the switch or system may have a malfunction. In this case, contact your NISSAN dealer. Even if there is a malfunction in the switch or system, this will not affect normal driving.
- The SPORT mode automatically turns off if a malfunction occurs.
- The SPORT mode only operates at speeds of above 20 MPH (30km/h).
- If the engine is switched off with the SPORT mode on, the SPORT mode resets to off when the engine is restarted.

- In the SPORT mode, fuel economy may be reduced.
- If the overdrive off mode is set when the SPORT mode is on, the overdrive off mode will take priority.
See also:
Special winter equipment
It is recommended that the following items be carried in the vehicle during winter: ● A scraper and stiff-bristled brush to remove ice and snow from the windows and wiper blades. ● A ...
Steering wheel switch for audio control
The audio system can be operated using the controls on the steering wheel. POWER on switch With the ignition switch in the ACC or ON position, push the SOURCE switch to turn the audio system o ...
Forward-facing child restraint installation using the seat belts
- The three-point seat belt with Automatic Locking Retractor (ALR) must be used when installing a child restraint. Failure to use the ALR mode will result in the child restraint not bein ...