Parking/parking on hills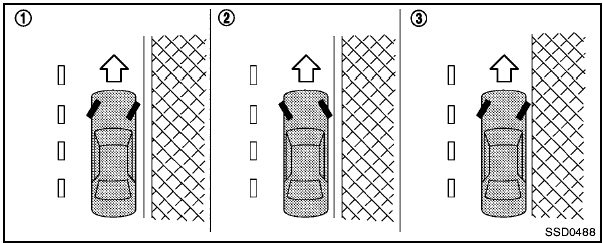 - Do not stop or park the vehicle over flammable materials such as dry grass, waste paper or rags. They may ignite and cause a fire.
- Safe parking procedures require that both the parking brake be set and the transmission placed into P (Park). Failure to do so could cause the vehicle to move unexpectedly or roll away and result in an accident.
Make sure the selector lever has been pushed as far forward as it can go and cannot be moved without depressing the foot brake pedal.
- Never leave the engine running while the vehicle is unattended.
- Do not leave children unattended inside the vehicle. They could unknowingly activate switches or controls.
Unattended children could become involved in serious accidents.
1. Firmly apply the parking brake.
2. Move the selector lever to the P (Park) position.
3. To help prevent the vehicle from rolling into traffic when parked on an incline, it is a good practice to turn the wheels as illustrated.
- HEADED DOWNHILL WITH CURB: 1 Turn the wheels into the curb and move the vehicle forward until the curb side wheel gently touches the curb.
- HEADED UPHILL WITH CURB: 2 Turn the wheels away from the curb and move the vehicle back until the curb side wheel gently touches the curb.
- HEADED UPHILL OR DOWNHILL, NO CURB: 3 Turn the wheels toward the side of the road so the vehicle will move away from the center of the road if it moves.
4. Turn the ignition switch to the LOCK position and remove the key, if inserted.
See also:
Passenger compartment
Passenger compartment 1. Interior trunk access. 2. Moonroof (if so equipped). 3. Sun visors. 4. Interior lights, illuminated entry. 5. HomeLink universal transceiver (if so equipped). 6. Int ...
Operating tips
● Say a command after the tone. Voice commands cannot be accepted when the icon is . ● If the command is not recognized, the system repeats the announcement. Repeat the command in a c ...
Cleaning interior
Occasionally remove loose dust from the interior trim, plastic parts and seats using a vacuum cleaner or soft bristled brush. Wipe the vinyl and leather surfaces with a clean, soft cloth dampened ...