Checking the tire pressure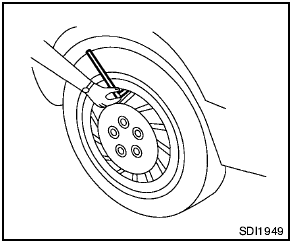 1. Remove the valve stem cap from the tire.
2. Press the pressure gauge squarely onto the valve stem. Do not press too hard or force the valve stem sideways, or air will escape. If the hissing sound of air escaping from the tire is heard while checking the pressure, reposition the gauge to eliminate this leakage.
3. Remove the gauge.
4. Read the tire pressure on the gauge stem and compare it to the specification shown on the Tire and Loading Information label.
5. Add air to the tire as needed. If too much air is added, press the core of the valve stem briefly with the tip of the gauge stem to release pressure. Recheck the pressure and add or release air as needed.
6. Install the valve stem cap.
7. Check the pressure of all other tires, including the spare.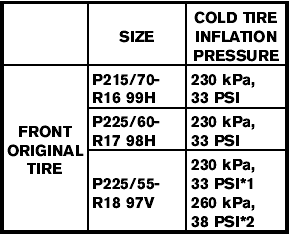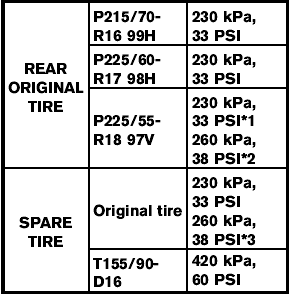 1: 2WD models
2: AWD models
3: AWD models with 18 inch tires
See also:
Booster seats
Precautions on booster seats WARNING: If a booster seat and seat belt are not used properly, the risk of a child being injured in a sudden stop or collision greatly increases: Make sure the s ...
Clearing the programmed information
Individual buttons cannot be cleared, however to clear all programming, push and hold the two outside buttons and release when the indicator light begins to flash (in approximately 20 seconds) ...
Fail-safe
If the vehicle is driven under extreme conditions, such as excessive wheel spinning and subsequent hard braking, the fail-safe system may be activated. The MIL may come on to indicate the fail-saf ...