Checking the tire pressure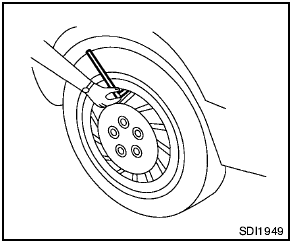 1. Remove the valve stem cap from the tire.
2. Press the pressure gauge squarely onto the valve stem. Do not press too hard or force the valve stem sideways, or air will escape. If the hissing sound of air escaping from the tire is heard while checking the pressure, reposition the gauge to eliminate this leakage.
3. Remove the gauge.
4. Read the tire pressure on the gauge stem and compare it to the specification shown on the Tire and Loading Information label.
5. Add air to the tire as needed. If too much air is added, press the core of the valve stem briefly with the tip of the gauge stem to release pressure. Recheck the pressure and add or release air as needed.
6. Install the valve stem cap.
7. Check the pressure of all other tires, including the spare.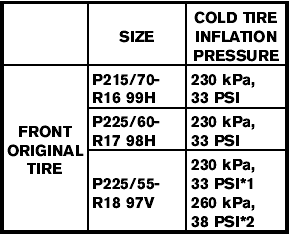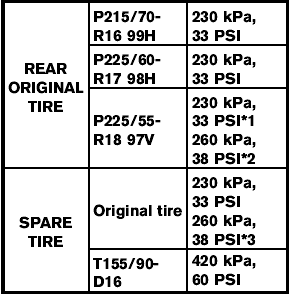 1: 2WD models
2: AWD models
3: AWD models with 18 inch tires
See also:
Engine cooling system
The engine cooling system is filled at the factory with a pre-diluted mixture of 50% Genuine NISSAN Long Life Antifreeze/Coolant (blue) and 50% water to provide year-round anti-freeze and cool ...
Sentra in the Market
The Sentra has been available in its current form for a few years, but it remains a competitive entry in the compact segment. Its drivetrain performance and suspension tuning are praiseworthy, and ...
Exhaust gas (carbon monoxide)
- Do not breathe exhaust gases; they contain colorless and odorless carbon monoxide. Carbon monoxide is dangerous. It can cause unconsciousness or death. - If you suspect that exhaust fum ...