Touch screen operation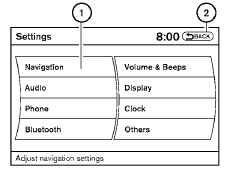 Selecting the item:
Touch an item to select. To select the "Navigation" key, touch the "Navigation" key 1 on the screen. Touch the "BACK"key 2 to return to the previous screen.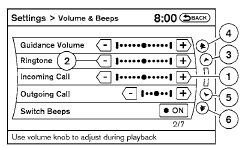 Adjusting the item:
Touch the "+" key 1 or the " " key 2 to adjust the settings of an item.
Touch the up arrow 3 to scroll up the page one item at a time, or touch the double up arrow 4 to scroll up an entire page.
Touch the down arrow 5 to scroll down the page one item at a time, or touch the double down arrow 6 to scroll down an entire page.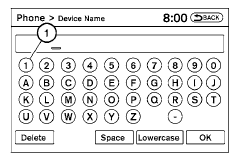 Inputting characters:
Touch the letter or number key 1 .
There are some options available when inputting characters.
● Uppercase:
Shows uppercase characters.
● Lowercase:
Shows lowercase characters.
● Space:
Inserts a space.
● Delete:
Deletes the last inputted character with one touch. Touch and hold the "Delete" key to delete all of the characters.
● OK:
Completes the character input.
Touch screen maintenance
If you clean the display screen, use a dry, soft cloth. If additional cleaning is necessary, use a small amount of neutral detergent with a soft cloth. Never spray the screen with water or detergent. Dampen the cloth first, and then wipe the screen.
See also:
How to use the INFO button
Press the INFO button; the display screen shows vehicle and navigation information for your convenience. The information shown on the screen should be a guide to determine the condition of the ...
Vehicle identification number (chassis number)
The vehicle identification number is located as shown. Remove the cover to access the number. ...
Climate control seat switch (if so equipped)
The climate controlled seat warms up or cools down the front seat by blowing warm or cool air from the surface of the seat. The climate control switch is located on the center console. The cl ...