Touch screen operation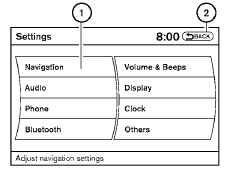 Selecting the item:
Touch an item to select. To select the "Navigation" key, touch the "Navigation" key 1 on the screen. Touch the "BACK"key 2 to return to the previous screen.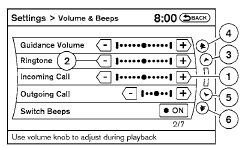 Adjusting the item:
Touch the "+" key 1 or the " " key 2 to adjust the settings of an item.
Touch the up arrow 3 to scroll up the page one item at a time, or touch the double up arrow 4 to scroll up an entire page.
Touch the down arrow 5 to scroll down the page one item at a time, or touch the double down arrow 6 to scroll down an entire page.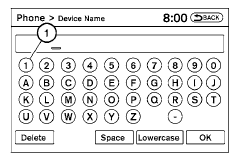 Inputting characters:
Touch the letter or number key 1 .
There are some options available when inputting characters.
● Uppercase:
Shows uppercase characters.
● Lowercase:
Shows lowercase characters.
● Space:
Inserts a space.
● Delete:
Deletes the last inputted character with one touch. Touch and hold the "Delete" key to delete all of the characters.
● OK:
Completes the character input.
Touch screen maintenance
If you clean the display screen, use a dry, soft cloth. If additional cleaning is necessary, use a small amount of neutral detergent with a soft cloth. Never spray the screen with water or detergent. Dampen the cloth first, and then wipe the screen.
See also:
The Inside
The SE-R is dolled-up with a black interior and sport bucket seats. The cloth upholstery, embroidered with the SE-R logo, is a step up from the regular Sentra, but I found the seats marginal in te ...
Push starting
CAUTION: - CVT models cannot be push-started or tow-started. Attempting to do so may cause transmission damage. - Do not push start this vehicle. The three-way catalyst may be damaged. ...
Speedometer
Speedometer The speedometer indicates vehicle speed in miles per hour (MPH) or kilometers per hour (km/h). ...