Fastening the seat belts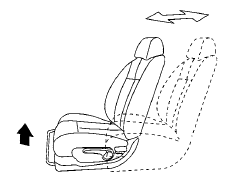 1. Adjust the seat. See "Seats" earlier in this section.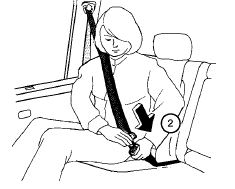 2 Slowly pull the seat belt out of the retractor and insert the tongue into the buckle until you hear and feel the latch engage.
● The retractor is designed to lock during a sudden stop or on impact. A slow pulling motion permits the seat belt to move, and allows you some freedom of movement in the seat.
● If the seat belt cannot be pulled from its fully retracted position, firmly pull the belt and release it. Then smoothly pull the belt out of the retractor.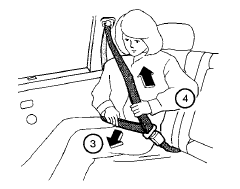 3 Position the lap belt portion low and snug on the hips as shown.
4 Pull the shoulder belt portion toward the retractor to take up extra slack. Be sure the shoulder belt is routed over your shoulder and across your chest.
The front passenger seat and the rear seating positions' three-point seat belts have two modes of operation:
● Emergency Locking Retractor (ELR)
● Automatic Locking Retractor (ALR)
The Emergency Locking Retractor (ELR) mode allows the seat belt to extend and retract to allow the driver and passengers some freedom of movement in the seat. The ELR locks the seat belt when the vehicle slows down rapidly or during certain impacts.
The Automatic Locking Retractor (ALR) mode (child restraint mode) locks the seat belt for child restraint installation.
When the ALR mode is activated, the seat belt cannot be extended again until the seat belt tongue is detached from the buckle and fully retracted. The seat belt returns to the ELR mode after the seat belt fully retracts. See "Child restraints" later in this section for more information.
The ALR mode should be used only for child restraint installation. During normal seat belt use by an occupant, the ALR mode should not be activated. If it is activated, it may cause uncomfortable seat belt tension.
WARNING
When fastening the seat belts, be certain that the seatbacks are completely secured in the latched position. If they are not completely secured, passengers may be injured in an accident or sudden stop.
See also:
Blocking wheels
Place suitable blocks 1 at both the front and back of the wheel diagonally opposite the flat tire to prevent the vehicle from moving when it is jacked up. Be sure to block the wheel as th ...
Booster seats
Precautions on booster seats WARNING: If a booster seat and seat belt are not used properly, the risk of a child being injured in a sudden stop or collision greatly increases: Make sure the s ...
Proficient Driving
The Rogue typifies the small-crossover driving experience. Its steering wheel turns with a light touch at low speeds and tracks reasonably well on the highway, and the sole drivetrain — a 2.5-li ...