Seat belts with pretensioners (Front seats)
WARNING
● The pretensioners cannot be reused after activation. They must be replaced together with the retractor and buckle as a unit.
● If the vehicle becomes involved in a collision but a pretensioner is not activated, be sure to have the pretensioner system checked and, if necessary, replaced by your NISSAN dealer.
● No unauthorized changes should be made to any components or wiring of the pretensioner system. This is to prevent damage to or accidental activation of the pretensioners. Tampering with the pretensioner system may result in serious personal injury.
● Work around and on the pretensioner system should be done by a NISSAN dealer. Installation of electrical equipment should also be done by a NISSAN dealer. Unauthorized electrical test equipment and probing devices should not be used on the pretensioner system.
● If you need to dispose of a pretensioner or scrap the vehicle, contact a NISSAN dealer. Incorrect disposal procedures could cause personal injury.
Working with the seat belt retractor, the pretensioner helps tighten the seat belt when the vehicle becomes involved in certain types of collisions, helping to restrain front seat occupants.
The pretensioner is encased with the seat belt retractor. These seat belts are used the same way as conventional seat belts.
When a pretensioner activates, smoke is released and a loud noise may be heard. This smoke is not harmful and does not indicate a fire. Care should be taken not to inhale it, as it may cause irritation and choking. Those with a history of a breathing condition should get fresh air promptly.
After pretensioner activation, load limiters allow the seat belt to release webbing (if necessary) to reduce forces against the chest.
The supplemental air bag warning light

is used to indicate malfunctions in the pretensioner system. (See SUPPLEMENTAL AIR BAG WARNING LIGHT in this section for more details.) If the operation of the supplemental air bag warning light indicates there is a malfunction, have the system checked by a NISSAN dealer. When selling your vehicle, we request that you inform the buyer about the pretensioner system and guide the buyer to the appropriate sections in this Owner's Manual.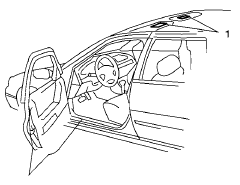 1. SRS Air Bag Warning Labels (located on the sun visors)
See also:
Difference between predicted and actual distances
The distance guide line and the vehicle width guide line should be used as a reference only when the vehicle is on a level, paved surface. The distance viewed on the monitor is for reference on ...
Trunk light
The light illuminates when the trunk lid is opened. When the trunk lid is closed, the light goes off. The light will go off after about 30 minutes if the trunk lid is left open, unless the ignitio ...
Maximum load limits
Never allow the total trailer load to exceed the value specified in the "Towing Load/Specification" chart found later in this section. The total trailer load equals trailer weight plus its ...