Power outlet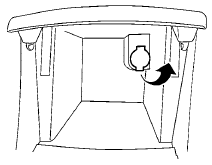 Instrument panel
The power outlets are for powering electrical accessories such as cellular telephones. They are rated at 12 volt, 120W (10A) maximum. The console outlet is powered directly by the vehicle's battery.
CAUTION
● The outlet and plug may be hot during or immediately after use.
● Only certain power outlets are designed for use with a cigarette lighter unit. Do not use any other power outlet for an accessory lighter. See your NISSAN dealer for additional information.
● Do not use with accessories that exceed a 12 volt, 120W (10A) power draw. Do not use double adapters or more than one electrical accessory.
● Use power outlets with the engine running to avoid discharging the vehicle battery.
● Avoid using power outlets when the air conditioner, headlights or rear window defroster is on.
● Before inserting or disconnecting a plug, be sure the electrical accessory being used is turned OFF.
● Push the plug in as far as it will go. If good contact is not made, the plug may overheat or the internal temperature fuse may open.
● When not in use, be sure to close the cap. Do not allow water or any other liquid to contact the outlet.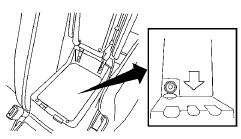 Console box
Open the lower half of the console box to access the power outlet. Refer to "Console box" in this section.
See also:
Small When You Need It, Big Where You Want It
Knowing that entry-level vehicles are used as "workhorses" - for commuting on weekdays, errand running on weekends and transporting family and friends all week long - the designers of th ...
How to speak numbers
Voice Recognition requires a certain way to speak numbers when giving voice commands. Refer to the following examples. General rule: ● Only single digits 0 (zero) to 9 can be used. ● ...
Exterior front
Exterior front 1. Front view camera* 2. Hood 3. Headlight and turn signal lights — Switch operation — Bulb replacement 4. Windshield wiper and washer — Switch operation — Blad ...