Displaying the command list
If you are controlling the system by voice commands for the first time or do not know the appropriate voice command, perform the following procedure for displaying the voice command list (available only in Alternate Command Mode).
Press the

switch, listen for the tone and say, "Help". The system will respond by displaying the command list main menu.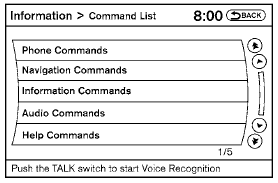 Only manual controls such as the touchscreen can navigate the command list menu.
As an alternative to the voice command "Help", you may access the command list using the following steps: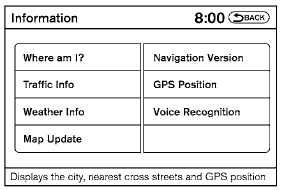 1. Press the INFO button on the instrument panel.
2. Select the "Voice Recognition" key.
NOTE:
You can skip steps 1 and 2 if you say "Help".
3. Select the "Command List" key.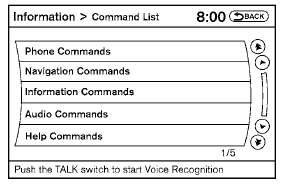 4. Select a category. The command list for the category selected is shown.
5. If necessary, scroll the screen to view the entire list.
6. Select the "Back" key to return to the previous screen.
See also:
Using the system
The NISSAN Voice Recognition system allows hands-free operation of the Bluetooth Phone System. If the vehicle is in motion, some commands may not be available so full attention may be given t ...
Safety chains
Always use suitable safety chains between your vehicle and the trailer. The safety chains should be crossed and should be attached to the hitch, not to the vehicle bumper or axle. Be sure to leave ...
Use of this product implies acceptance of the terms below
This device contains software from Gracenote, Inc. of Emeryville, California (Gracenote). The software from Gracenote (the Gracenote Software ) enables this application to do online disc ident ...