Displaying user guide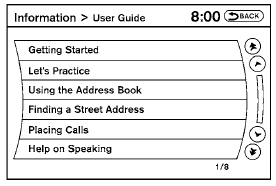 You can confirm how to use voice commands by accessing a simplified User Guide, which contains basic instructions and tutorials for several voice commands.
1. Press the INFO button on the instrument panel.
2. Select the "Voice Recognition" key.
3. Select the "User Guide" key.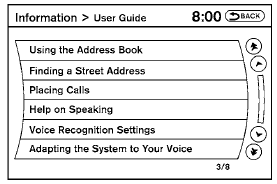 4. Select an item.
Available items:
● Getting Started
Describes the basics of how to operate the Voice Recognition system.
● Let's Practice
Initiates a practice session that demonstrates how to improve recognition by the system.
● Using the Address Book
Tutorial for using the Address Book.
● Finding a Street Address
Tutorial for Finding a Street Address.
● Placing Calls
Tutorial for making a phone call by voice command operation.
● Help on Speaking
Displays useful tips for how to correctly speak commands in order for them to be properly recognized by the system.
● Voice Recognition Settings Describes the available Voice Recognition settings.
● Adapting the System to Your Voice Tutorial for adapting the system to your voice.
See also:
Readiness for inspection/maintenance (I/M) test
Due to legal requirements in some states and Canadian Provinces, your vehicle may be required to be in what is called the "ready condition" for an Inspection/Maintenance (I/M) test of the emis ...
Brake system
The brake system has two separate hydraulic circuits. If one circuit malfunctions, you will still have braking at 2 wheels. ...
Instrument panel
Instrument panel 1. Side and center vents. 2. Headlight/fog light (if so equipped)/turn signal switch. 3. Steering wheel switch for audio control and Bluetooth Hands-Free Phone System. 4. ...