Drive belt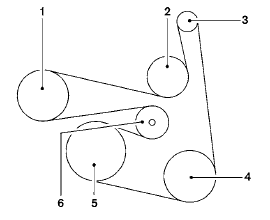 QR25DE engine
1. Power steering fluid pump pulley
2. Water pump pulley
3. Generator
4. Air conditioner
5. Crankshaft pulley
6. Drive belt Automatic tensioner
WARNING
Be sure the ignition switch is placed in the OFF or LOCK position before servicing drive belt. The engine could rotate unexpectedly.
1. Visually inspect the belt for signs of unusual wear, cuts, fraying or looseness. If the belt is in poor condition or is loose, have it replaced or adjusted by a NISSAN dealer.
2. Have the belt checked regularly for condition and tension in accordance with the maintenance schedule found in the "NISSAN Service and Maintenance Guide".
VQ35DE engine
1. Power steering fluid pump pulley
2. Idler pulley
3. Generator
4. Air conditioner
5. Idler pulley
6. Crankshaft pulley
7. Drive belt Automatic tensioner
See also:
Hitch ball
Choose a hitch ball of the proper size and weight rating for your trailer: ● The required hitch ball size is stamped on most trailer couplers. Most hitch balls also have the size printed on ...
Locking doors
Locking doors 1. Move the shift selector to the P (Park) position, place the ignition switch in the LOCK position and make sure you carry the Intelligent Key with you. 2. Close all doors. 3. Pus ...
Air conditioner system refrigerant and oil recommendations
The air conditioner system in your NISSAN vehicle must be charged with the refrigerant HFC-134a (R-134a) and NISSAN A/C system oil Type S or the exact equivalents. CAUTION: The use of any othe ...