Manual transmission (if so equipped)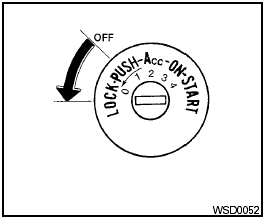 The ignition switch includes a device that helps prevent accidental removal of the key while driving.
The key can only be removed when the ignition switch is in the LOCK position.
On manual transmission models, to turn the ignition switch to the LOCKposition from theACCor ON position, place the ignition switch in the OFF position, push the key in, then place the ignition switch in LOCK position.
See also:
Normal operation
The ABS operates at speeds above 3 - 6 MPH (5 - 10 km/h). The speed varies according to road conditions. When the ABS senses that 1 or more wheels are close to locking up, the actuator rapidly ...
Compact disc (CD) player operation
If the radio is already operating, it automatically turns off and the compact disc begins to play. CD button: When the CD button is pressed with the system off and the compact disc loaded, the s ...
Draining of coolant water
If the vehicle is to be left outside without antifreeze, drain the cooling system, including the engine block. Refill before operating the vehicle. For details, see "Changing engine coolant" in ...