Seats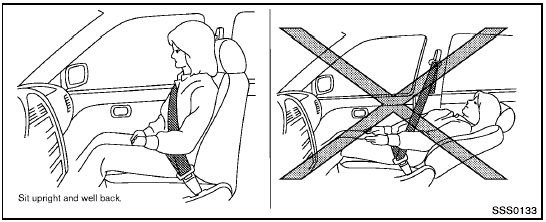 Seats

- Do not ride in a moving vehicle when the seatback is reclined. This can be dangerous. The shoulder belt will not be against your body. In an accident, you could be thrown into it and receive neck or other serious injuries. You could also slide under the lap belt and receive serious internal injuries.
- For the most effective protection when the vehicle is in motion, the seat should be upright. Always sit well back in the seat with both feet on the floor and adjust the seat properly. See "Precautions on seat belt usage" later in this section.
- After adjustment, gently rock in the seat to make sure it is securely locked.
- Do not leave children unattended inside the vehicle. They could unknowingly activate switches or controls.
Unattended children could become involved in serious accidents.
- The seatback should not be reclined any more than needed for comfort.
Seat belts are most effective when the passenger sits well back and straight up in the seat. If the seatback is reclined, the risk of sliding under the lap belt and being injured is increased.
When adjusting the seat positions, be sure not to contact any moving parts to avoid possible injuries and/or damages.
See also:
NISSAN Intelligent Key™ Operation
NISSAN Intelligent Key™ Operation You can lock or unlock the doors without taking the Intelligent Key out of your pocket or bag. When you carry the Intelligent Key with you, you can lock or ...
Self-test feature
The ABS includes electronic sensors, electric pumps, hydraulic solenoids and a computer. The computer has a built-in diagnostic feature that tests the system each time you start the engine and ...
Readiness for Inspection/Maintenance (I/M) test
A vehicle equipped with All-Wheel Drive (AWD) should never be tested using a two wheel dynamometer (such as the dynamometers used by some states for emissions testing), or similar equipment. M ...