Compass display (if so equipped)
This unit measures terrestrial magnetism and indicates the heading direction of the vehicle.
With the

ignition placed in the ON position, press the button as described in the charts below to activate various features of the automatic anti-glare rearview mirror.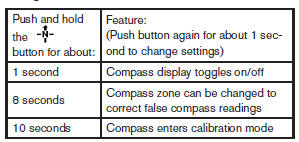 For information about the automatic anti-glare feature, refer to Automatic anti-glare rearview mirror in the Pre-driving checks and adjustments section.