Speaker Adaptation function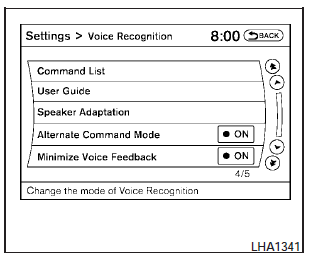 The Voice Recognition system has a function to learn the users voice for better voice recognition performance. The system can memorize the voices of up to three persons.
Having the system learn the users voice
1. Press the SETTING button on the instrument panel, select the Others key on the display.
2. Select the Voice Recognition key.
3. Select the Speaker Adaptation key.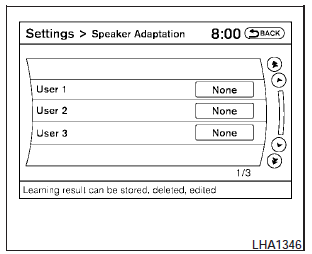 4. Select the user whose voice is to be memorized by the system.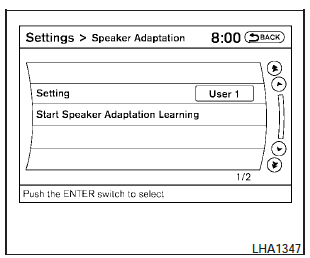 5. Select a category to be learned by the system from the following list:
- Phone.
- Navigation.
- Information.
- Audio.
- Help.
The voice commands in the category are displayed.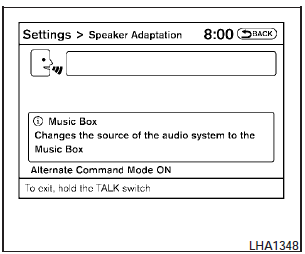 6. Select a voice command to train.
The Voice Recognition system starts.
7. The system requests that you repeat a command after a tone. This command is also displayed on the screen.
8. After the tone sounds and the icon on the screen changes from

, speak the command that the system requested.
9. When the system has recognized the voice command, the voice of the user is learned.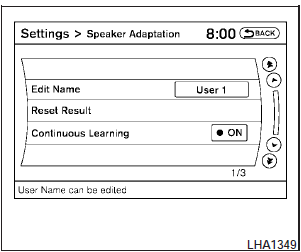 Speaker Adaptation function settings
Edit Name:
Edit the user name using the keypad displayed on the screen.
Reset Result:
Resets the users voice that the Voice Recognition system has learned.
Continuous Learning:
When this item is turned to ON, you can have the system learn the voice commands in succession, without selecting commands one by one.
See also:
Cleaning interior
This vehicle has new and unique surfaces on the center console and door pull finishers. If cleaning is required use mild soap and water. However if mild soap and water won't clean the center c ...
Vacuum assisted brakes
The brake booster aids braking by using engine vacuum. If the engine stops, you can stop the vehicle by depressing the brake pedal. However, greater foot pressure on the brake pedal will be re ...
RearView monitor (if so equipped)
When the selector lever is shifted into the R (Reverse) position, the monitor display shows the view to the rear of the vehicle. The system is designed as an aid to the driver in detecting larg ...