Engine cooling system
The engine cooling system is filled at the factory with Genuine NISSAN Engine Coolant to provide year-round anti-freeze and coolant protection.
The anti-freeze solution contains rust and corrosion inhibitors. Additional engine cooling system additives are not necessary.
WARNING:
- Never remove the radiator or coolant reservoir cap when the engine is hot.
Wait until the engine and radiator cool down. Serious burns could be caused by high pressure fluid escaping from the radiator. See precautions in If your vehicle overheats found in the In case of emergency section of this manual.
- The radiator is equipped with a pressure type radiator cap. To prevent engine damage, use only a genuine NISSAN radiator cap.
CAUTION:
When adding or replacing coolant, be sure to use only a Genuine NISSAN Long Life Antifreeze/Coolant or equivalent with the proper mixture ratio of 50% anti-freeze and 50% demineralized or distilled water.
The use of other types of coolant solutions other than Genuine NISSAN Long Life Antifreeze/Coolant or equivalent, may damage the engine cooling system.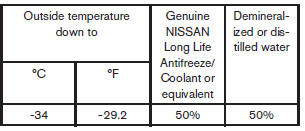 See also:
Touch screen maintenance
If you clean the display screen, use a dry, soft cloth. If additional cleaning is necessary, use a small amount of neutral detergent with a soft cloth. Never spray the screen with water or deter ...
Class I hitch
Class I trailer hitch equipment (receiver, ball mount and hitch ball) can be used to tow trailers of a maximum weight of 2,000 lb (909 kg). You may add Class I trailer hitch equipment that has a 2 ...
Types of tires
● When changing or replacing tires, be sure all four tires are of the same type (i.e., Summer, All Season or Snow) and construction. A NISSAN dealer may be able to help you with info ...