Engine cooling system
The engine cooling system is filled at the factory with Genuine NISSAN Engine Coolant to provide year-round anti-freeze and coolant protection.
The anti-freeze solution contains rust and corrosion inhibitors. Additional engine cooling system additives are not necessary.
WARNING:
- Never remove the radiator or coolant reservoir cap when the engine is hot.
Wait until the engine and radiator cool down. Serious burns could be caused by high pressure fluid escaping from the radiator. See precautions in If your vehicle overheats found in the In case of emergency section of this manual.
- The radiator is equipped with a pressure type radiator cap. To prevent engine damage, use only a genuine NISSAN radiator cap.
CAUTION:
When adding or replacing coolant, be sure to use only a Genuine NISSAN Long Life Antifreeze/Coolant or equivalent with the proper mixture ratio of 50% anti-freeze and 50% demineralized or distilled water.
The use of other types of coolant solutions other than Genuine NISSAN Long Life Antifreeze/Coolant or equivalent, may damage the engine cooling system.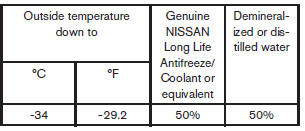 See also:
iPod Player Operation without Navigation System (if so equipped)
Connecting iPodT To connect an iPodT to the vehicle so that the iPodT can be controlled with the audio system controls and display screen, use the USB jack located in the center console. Open ...
2011 Nissan Juke review By Warren Brown
It's a bug-eyed, bubble-butt car, perhaps the ugliest compact automobile ever made. It's perfect fare for a review on Halloween, a car that resembles a hunchbacked bat or an evil mouse in transl ...
How to say numbers
NISSAN Voice Recognition requires a certain way to speak numbers in voice commands. Refer to the rules and examples below. - Either "zero" or "oh" can be used for "0". Example: 1-800- ...