Compass display (if so equipped)
This unit measures terrestrial magnetism and indicates the direction of the vehicle's heading. With the ignition switch placed in the ON position, press the

button as described in the chart below to activate various features of the automatic anti-glare rearview mirror.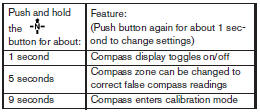 For information about the automatic anti-glare feature, refer to "Automatic anti-glare rearview mirror" in the "Pre-driving checks and adjustments" section.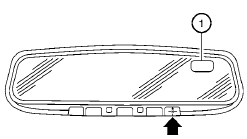 Press the

button for about 1 second when the ignition switch is placed in the ON position to toggle the compass display 1 on or off. The display will indicate the direction of the vehicle's heading.
N: North
E: East
S: South
W: West
If the display reads "C", calibrate the compass by driving the vehicle in three complete circles at less than 5 MPH (8 km/h).
You can also calibrate the compass by driving your vehicle on your everyday route. The compass will be calibrated once it has tracked three complete circles.
See also:
VOLUME control switch
Push up or down the VOLUME control switch to increase or decrease the volume. Tuning switch Memory change (radio): Push up or down the tuning switch for less than 1.5 seconds to change the ne ...
Car phone or CB radio
When installing a CB, ham radio or car phone in your NISSAN, be sure to observe the following precautions; otherwise, the new equipment may adversely affect the engine control system and other ele ...
Programming HomeLink for Canadian customers
Prior to 1992, D.O.C. regulations required handheld transmitters to stop transmitting after 2 seconds. To program your hand-held transmitter to HomeLink , continue to press and hold the HomeLink b ...