Headlight beam select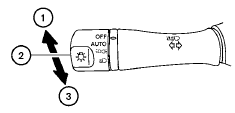 1 To select the high beam function, push the lever forward. The high beam lights come on and the

light illuminates.
2 Pull the lever back to select the low beam.
3 Pulling and releasing the lever flashes the headlight high beams on and off.
See also:
Pregnant women
NISSAN recommends that pregnant women use seat belts. The seat belt should be worn snug, and always position the lap belt as low as possible around the hips, not the waist. Place the shoulder ...
Brakes
If the brakes do not operate properly, have the brakes checked by a NISSAN dealer. ...
Tongue load
Keep the tongue load between 10 - 15 percent of the total trailer load or use the trailer tongue load specified by the trailer manufacturer. The tongue load must be within the maximum tongue load ...