Hood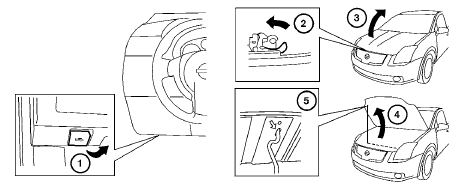 1 Pull the hood lock release handle located below the driver's side instrument panel; the hood springs up slightly.
2 Lift the lever at the front of the hood with your fingertips and raise the hood.
3 Remove the support rod from the clamp.
4 Insert the support rod into the hole on the passenger's side of the hood. 5
When closing the hood, return the hood rod to its original position. Lower the hood approximately 12 inches (30 cm) above the latch and release it. This allows proper engagement of the hood latch.
WARNING
● Make sure the hood is completely closed and latched before driving. Failure to do so could cause the hood to fly open and result in an accident.
● If you see steam or smoke coming from the engine compartment, to avoid injury do not open the hood.
See also:
Vehicle load capacity
Do not exceed the load limit of your vehicle shown as The combined weight of occupants and cargo on the Tire and Loading Information label. Do not exceed the number of occupants shown as Sea ...
Features & Pricing
Starting at $30,690 for a 2010 Maxima and increasing to $30,810 for a 2011, the Maxima falls right between the Taurus ($25,170 to start, similarly equipped for $27,370) and Avalon ($32,445 to star ...
Warning lights
All-Wheel Drive (AWD) warning light (AWD models) The light illuminates when the ignition switch is turned to the ON position. It turns off after the engine is started. If the All-Wheel Drive ...