Having the system learn the user's voice
1. Press the SETTING button on the instrument panel, select the "Others" key on the display.
2. Select the "Voice Recognition" key.
3. Select the "Speaker Adaptation" key.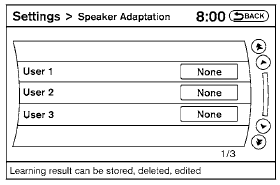 4. Select the user whose voice is to be memorized by the system.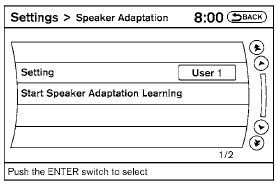 5. Select a category to be learned by the system from the following list:
● Phone
● Navigation
● Information
● Audio
● Help
The voice commands in the category are displayed.
6. Select a voice command to train.
The Voice Recognition system starts.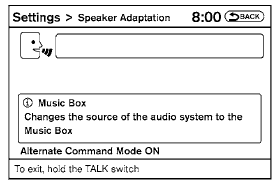 7. The system requests that you repeat a command after a tone. This command is also displayed on the screen.
8. After the tone sounds and the icon on the screen changes from

to

, speak the command that the system requested.
9. When the system has recognized the voice command, the voice of the user is learned.
Press the

switch or select the "Back" key to return to the previous screen.
If the system has learned the command correctly, the voice command indicator on the screen turns on.
See also:
All-Wheel Drive (AWD) (if so equipped)
- For AWD equipped vehicles, do not attempt to raise two wheels off the ground and shift the transmission to any drive or reverse position with the engine running. Doing so may result in ...
Air conditioner system (if so equipped) refrigerant and oil recommendations
The air conditioner system in your NISSAN vehicle must be charged with the refrigerant HFC-134a (R-134a) and the oil, NISSAN A/C system oil Type S or the exact equivalents. The use of any o ...
Light reminder chime
With the ignition switch placed in the OFF position, a chime sounds when the driver's door is opened if the headlights or parking lights are on. Turn the headlight control switch off before leavi ...