NISSAN Intelligent Key™ battery discharge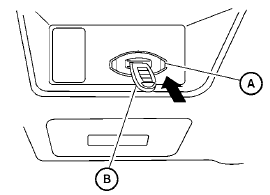 If the battery of the Intelligent Key is almost discharged, the guide light A of the Intelligent Key port blinks and the indicator appears on the vehicle information display. See "Vehicle information display" in the "Instruments and controls" section.
In this case, inserting the Intelligent Key into the port B allows you to start the engine. Make sure the Intelligent Key is placed in the correct direction: The front side faces upward and the key ring side faces downward as illustrated.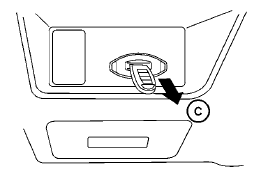 To remove the Intelligent Key from the port, push the ignition switch to the LOCK position and pull the Intelligent Key out of the port C .
NOTE:
The Intelligent Key port does not charge the Intelligent Key battery. If you see the low battery indicator, replace the battery as soon as possible. See "Battery replacement" in the "Maintenance and do-ityourself" section.
CAUTION
● Never place anything except the Intelligent Key in the Intelligent Key port. Doing so may cause damage to the equipment.
● Make sure the Intelligent Key is in the correct direction when inserting it to the Intelligent Key port. The engine may not start if it is in the wrong direction..
● Remove the Intelligent Key from the Intelligent Key port after the ignition switch is pushed to the LOCK position.
See also:
Replacing wheels and tires
When replacing a tire, use the same size, tread design, speed rating and load carrying capacity as originally equipped. Recommended types and sizes are shown in "Wheels and tires" in the "Te ...
Install
1. Align the head restraint stalks with the holes in the seat. Make sure the head restraint is facing the correct direction. 2. Push and hold the lock knob and push the head restraint down. 3. ...
Oil viscosity
The engine oil viscosity or thickness changes with temperature. Because of this, it is important to select the engine oil viscosity based on the temperatures at which the vehicle will be operated ...