Engine compartment check locations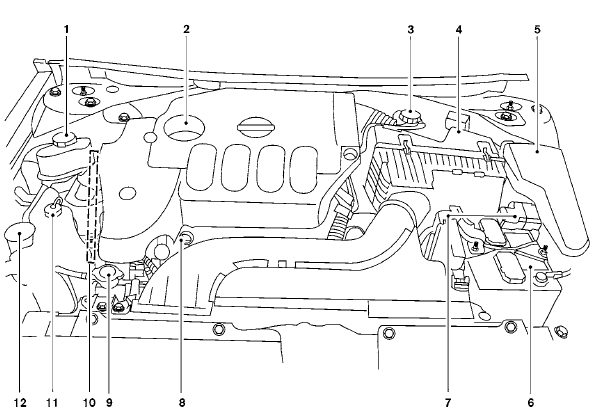 QR25DE engine
1. Power steering fluid reservoir
2. Engine oil filler cap
3. Brake fluid reservoir/Clutch fluid reservoir (M/T model)
4. Air cleaner
5. Fuse block
6. Battery
7. Fuse/Fusible link box
8. Engine oil dipstick
9. Radiator cap
10. Drive belt location
11. Engine coolant reservoir
12. Windshield-washer fluid reservoir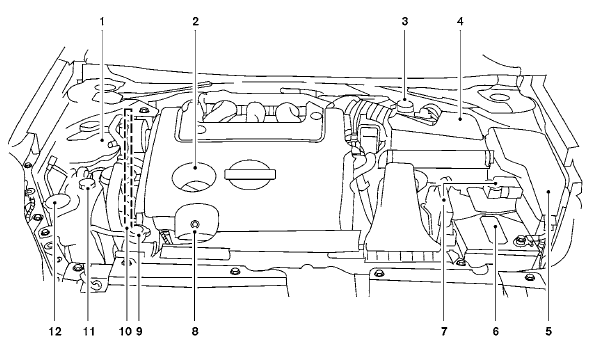 VQ35DE engine
1. Power steering fluid reservoir
2. Engine oil filler cap
3. Brake fluid reservoir/Clutch fluid reservoir (M/T model)
4. Air cleaner
5. Fuse block
6. Battery
7. Fuse/Fusible link box
8. Engine oil dipstick
9. Radiator cap
10. Drive belt location
11. Engine coolant reservoir
12. Windshield-washer fluid reservoir
See also:
Increasing fuel economy
GUID-08316153-E8EB-4B1D-A83C-780DAE9E7643 - Accelerate slowly and smoothly. Maintain cruising speeds with a constant accelerator position. - Drive at moderate speeds on the highway. Driving at ...
Cruise control operations
The cruise control allows driving at a speed between 25 - 89 MPH (40 - 144 km/h) without keeping your foot on the accelerator pedal. To turn on the cruise control, push the ON·OFF switch. The CRU ...
Small When You Need It, Big Where You Want It
Knowing that entry-level vehicles are used as "workhorses" - for commuting on weekdays, errand running on weekends and transporting family and friends all week long - the designers of th ...