Air cleaner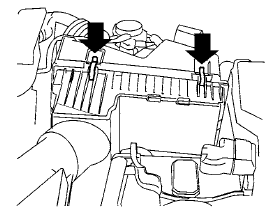 QR25DE
NOTE:
The air cleaner filter should not be cleaned and reused.
Replace the air cleaner filter according to the maintenance log shown in the "Warranty Information and Maintenance Booklet."
To remove the air cleaner filter:
1 Unlatch the clips and move the air cleaner cover upward.
2 Remove the air cleaner filter.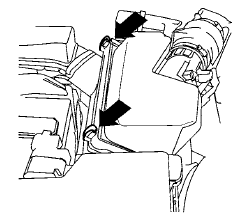 VQ35DE
3 Wipe the inside of the air cleaner filter housing and the cover with a damp cloth.
NOTE:
After installing a new air cleaner, make sure the air cleaner cover is seated in the housing and latch the clips.
WARNING
● Operating the engine with the air cleaner removed can cause you or others to be burned. The air cleaner not only cleans the air, it stops the flame if the engine backfires. If it isn't there, and the engine backfires, you could be burned. Do not drive with the air cleaner removed, and be careful when working on the engine with the air cleaner removed.
● Never pour fuel into the throttle body or attempt to start the engine with the air cleaner removed. Doing so could result in serious injury.
See also:
NISSAN Intelligent Key™ With Door and Trunk
WARNING ● Radio waves could adversely affect electric medical equipment. Those who use a pacemaker should contact the electric medical equipment manufacturer for the possible influences bef ...
High fluid temperature protection mode
This transmission has a high fluid temperature protection mode. If the fluid temperature becomes too high (for example, when climbing steep grades in high temperature with heavy loads, such as ...
Boxy Dynamics
I have no reason to believe the Cube is unstable, and it has a standard electronic stability system, but it does feel more top-heavy than the other boxes — and definitely more so than convention ...