Releasing the trunk lid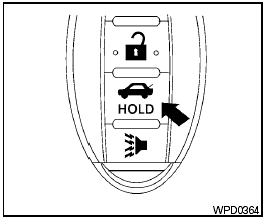 Releasing the trunk lid
Press the

button for longer than 0.5 seconds to open the trunk lid. The trunk release button will not operate when the ignition switch is placed in the ON position.
See also:
Zone variation change procedure
The difference between magnetic north and geographical north is known as variance. In some areas, this difference can sometimes be great enough to cause false compass readings. Follow these instru ...
Anti-lock Braking System (ABS)
WARNING ● The Anti-lock Braking System (ABS) is a sophisticated device, but it cannot prevent accidents resulting from careless or dangerous driving techniques. It can help maintain vehicle ...
In-cabin microfilter
The in-cabin microfilter restricts the entry of airborne dust and pollen particles and reduces some objectionable outside odors. The filter is located behind the trim panel near the accelerator ...