Exterior front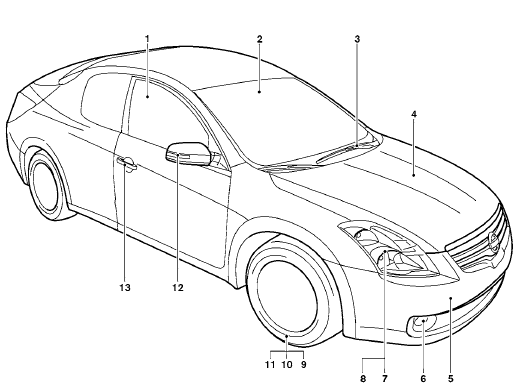 Coupe
1. Power windows (P. 2-43)
2. Windshield (P. 8-21)
3. Windshield wiper and washer switch (P. 2-28)
4. Engine hood (P. 3-23)
5. Tie down (P. 6-14)
6. Fog light switch (if so equipped) (P. 2-34)
7. Headlight and turn signal switch (P. 2-29)
8. Replacing bulbs (P. 8-29)
9. Tire pressure (P. 8-38)
10. Flat tire (P. 6-2)
11. Tire chains (P. 8-46)
12. Mirrors (P. 3-29)
13. Door locks, NISSAN Intelligent Key ™ , keys (P. 3-4, 3-6, 3-2)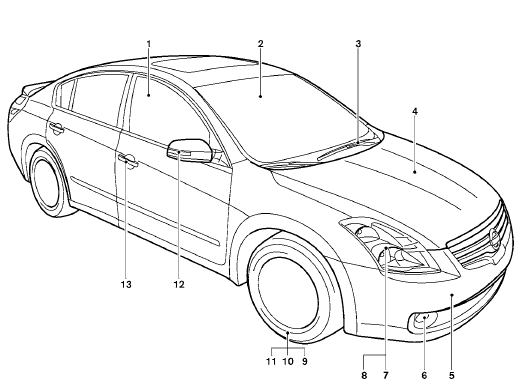 Sedan
1. Power windows (P. 2-43)
2. Windshield (P. 8-21)
3. Windshield wiper and washer switch (P. 2-28)
4. Engine hood (P. 3-23)
5. Tie down (P. 6-14)
6. Fog light switch (if so equipped) (P. 2-34)
7. Headlight and turn signal switch (P. 2-29)
8. Replacing bulbs (P. 8-29)
9. Tire pressure (P. 8-38)
10. Flat tire (P. 6-2)
11. Tire chains (P. 8-46)
12. Mirrors (P. 3-29)
13. Door locks, NISSAN Intelligent Key ™ , keys (P. 3-4, 3-6, 3-2)
See also:
Turn signal switch
Turn signal (1) Move the lever up or down to signal the turning direction. When the turn is completed, the turn signals cancel automatically. Lane change signal (2)- To signal a lane cha ...
Off-road recovery
If the right side or left side wheels unintentionally leave the road surface, maintain control of the vehicle by following the procedure below. Please note that this procedure is only a general gui ...
Dimensions and weights
1: Without front license plate bracket 2: With front license plate bracket 3: With roof rail ...