Exterior front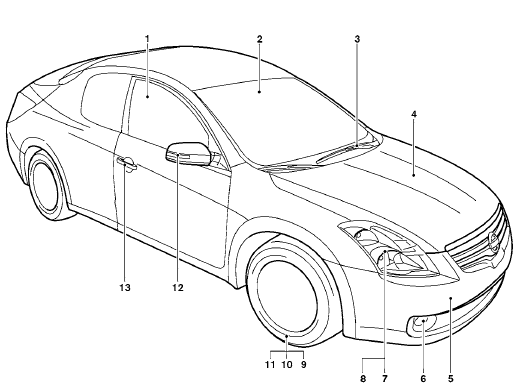 Coupe
1. Power windows (P. 2-43)
2. Windshield (P. 8-21)
3. Windshield wiper and washer switch (P. 2-28)
4. Engine hood (P. 3-23)
5. Tie down (P. 6-14)
6. Fog light switch (if so equipped) (P. 2-34)
7. Headlight and turn signal switch (P. 2-29)
8. Replacing bulbs (P. 8-29)
9. Tire pressure (P. 8-38)
10. Flat tire (P. 6-2)
11. Tire chains (P. 8-46)
12. Mirrors (P. 3-29)
13. Door locks, NISSAN Intelligent Key ™ , keys (P. 3-4, 3-6, 3-2)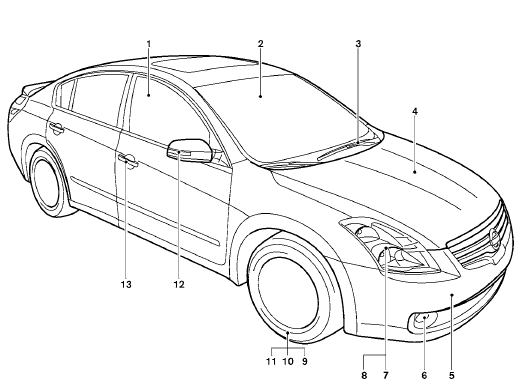 Sedan
1. Power windows (P. 2-43)
2. Windshield (P. 8-21)
3. Windshield wiper and washer switch (P. 2-28)
4. Engine hood (P. 3-23)
5. Tie down (P. 6-14)
6. Fog light switch (if so equipped) (P. 2-34)
7. Headlight and turn signal switch (P. 2-29)
8. Replacing bulbs (P. 8-29)
9. Tire pressure (P. 8-38)
10. Flat tire (P. 6-2)
11. Tire chains (P. 8-46)
12. Mirrors (P. 3-29)
13. Door locks, NISSAN Intelligent Key ™ , keys (P. 3-4, 3-6, 3-2)
See also:
Memory storage function
Two positions for the drivers seat, steering column, and outside mirrors can be stored in the automatic drive positioner memory. Follow these procedures to use the memory system. 1. Set the C ...
CD or USB with Compressed Audio Files (models without Navigation System)
The file types supported by this system are MP3 and WMA. Explanation of terms: - MP3 MP3 is short for Moving Pictures Experts Group Audio Layer 3. MP3 is the most well-known compressed digital ...
Power windows
WARNING ● Make sure that all passengers have their hands, etc. inside the vehicle while it is in motion and before closing the windows. Use the window lock switch to prevent unexpected use ...