Switch operation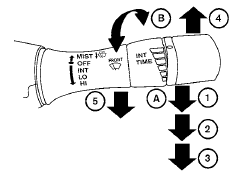 The windshield wiper and washer switch operates when the ignition switch is placed in the ON position.
Push the lever down to operate the wiper at the following speed:
1 Intermittent — intermittent operation can be adjusted by turning the switch toward A (Slower) or B (Faster). Also, for vehicles equipped with speed dependent wipers, the intermittent operation speed varies in accordance with the vehicle speed. (For example, when the vehicle speed is high, the intermittent operation speed will be faster.)
2 Low — continuous low speed operation
3 High — continuous high speed operation
Push the lever up 4 to have one sweep operation of the wiper.
Pull the lever toward you 5 to operate the washer. The wiper will also operate several times.
WARNING
In freezing temperatures the washer solution may freeze on the windshield and obscure your vision which may lead to an accident. Warm the windshield with the defroster before you wash the windshield.
CAUTION
● Do not operate the washer continuously for more than 30 seconds.
● Do not operate the washer if the windshield-washer fluid reservoir is empty.
● Do not fill the windshield-washer fluid reservoir with washer fluid concentrates at full strength. Some methyl alcohol based washer fluid concentrates may permanently stain the grille if spilled while filling the windshieldwasher fluid reservoir.
● Pre-mix windshield-washer fluid concentrates with water to the manufacturer's recommended levels before pouring the fluid into the windshield-washer fluid reservoir. Do not use the windshield-washer fluid reservoir to mix the washer fluid concentrate and water.
See also:
Platform
Nissan Juke is based on Renault Nissan Alliance B-Platform and has a 2530mm wheelbase, is 4135mm long, 1765mm wide and 1570mm tall. To allow the top of the range to use 17-inch wheels and 215/55 R ...
Operating tips
● When the engine coolant temperature and outside air temperature are low, the air flow from the foot outlets may not operate for a maximum of 150 seconds. However, this is not a malfunction ...
Safety chains
Always use a suitable chain between your vehicle and the trailer. The safety chains should be crossed and should be attached to the hitch, not to the vehicle bumper or axle. The safety chains ...