Suggested up-shift speeds
The following are suggested vehicle speeds for shifting into a higher gear. These suggestions relate to fuel economy and vehicle performance. Actual upshift speeds will vary according to road conditions, the weather and individual driving habits.
For normal acceleration in low altitude areas (less than 4,000 ft [1219 m]):
For QR25DE: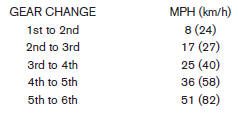 For VQ35DE: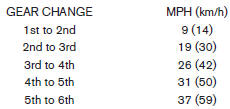 For acceleration in high altitude areas (over 4,000 ft [1219 m]):
For QR25DE:
For VQ35DE: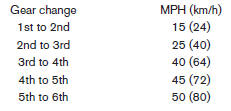 See also:
Zone variation change procedure
The difference between magnetic north and geographical north is known as variance. In some areas, this difference can sometimes be great enough to cause false compass readings. Follow these instru ...
Floor mats
To avoid potential pedal interference that may result in a collision or injury. ● NEVER place a floor mat on top of another floor mat in the driver front position. ● Use only g ...
Automatic operation (AUTO)
The AUTO mode may be used all year around as the system automatically controls constant temperature, air flow distribution and fan speed. To turn off the heater and air conditioner, turn the fa ...