FM-AM-SAT(if so equipped) radio with Compact Disc (CD) player (Type A)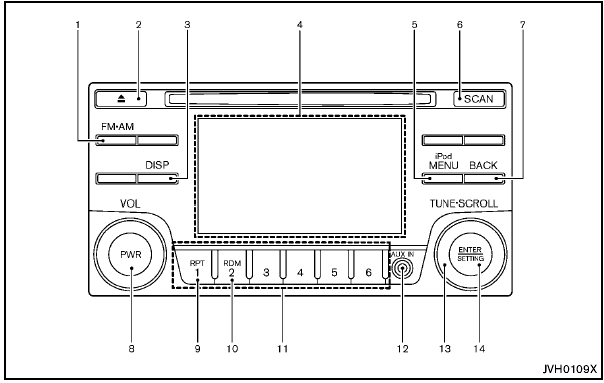 FM-AM-SAT(if so equipped) radio with Compact Disc (CD) player (Type A)
1. FM·AM band select button
2. CD EJECT button
3. DISP (display) button
4. Color display
5. iPod® MENU button
6. Radio SCAN tuning button
7. BACK button
8. PWR (power) button/VOL (volume) control knob
9. RPT (repeat) play button
10. RDM (random) play button
11. Radio station preset select buttons
12. AUX IN jack
13. TUNE·SCROLL control knob
14. ENTER/SETTING button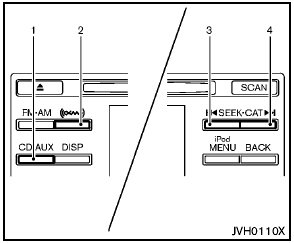 models with satellite radio
1. CD·AUX button
2. XM band select button
3. Radio CAT (category)/REW (rewind) button for SEEK/TRACK
4. Radio CAT (category)/FF (fast forward) button for SEEK/TRACK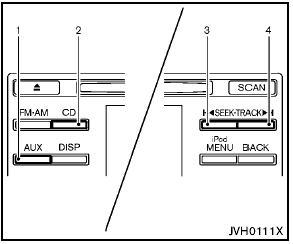 models without satellite radio
1. AUX button
2. CD button
3. REW (rewind) button for SEEK/TRACK
4. FF (fast forward) button for SEEK/TRACK
For all operation precautions, see "Audio operation precautions" earlier in this section.
For models with satellite radio:
- No satellite radio reception is available when the SAT band option is selected unless the optional satellite receiver and antenna are installed, and there is an active XM Satellite Radio subscription.
- The satellite radio mode requires an active XM Satellite Radio subscription. The satellite radio is not available in Alaska, Hawaii and Guam.
- It may take some time to receive the activation signal after subscribing the XM Satellite Radio. After receiving the activation signal, an available channel list will be automatically updated in the radio. For XM, place the ignition switch from LOCK to ACC to update the channel list.
See also:
Mechanical key
The Intelligent Key contains the mechanical key. To remove the mechanical key, release the lock knob on the back of the Intelligent Key. To install the mechanical key, firmly insert it into the ...
Luggage side box
Luggage side box To open the luggage side box, pull up the strap. ...
Cargo
Given that all three cars are space-efficient, the Cube's smallest-in-group exterior size has to hurt something. It does — the cargo space. Nissan says volume behind the second row totals just 1 ...