Fuses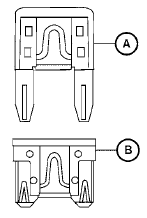 Two types of fuses are used. Type A is used in the fuse boxes in the engine compartment. Type B is used in the passenger compartment fuse box.
Type A fuses are provided as spare fuses. They are stored in the passenger compartment fuse box.
Type A fuses can be installed in the engine compartment and passenger compartment fuse boxes.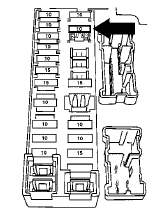 If a type A fuse is used to replace a type B fuse, the type A fuse will not be level with the fuse pocket as shown in the illustration. This will not affect the performance of the fuse. Make sure the fuse is installed in the fuse box securely.
Type B fuses cannot be installed in the underhood fuse boxes. Only use type A fuses in the underhood fuse boxes.
See also:
Foreword
Welcome to the growing family of new NISSAN owners. This vehicle is delivered to you with confidence. It was produced using the latest techniques and strict quality control. This manual was pre ...
Tire labeling
Example Federal law requires tire manufacturers to place standardized information on the sidewall of all tires. This information identifies and describes the fundamental characteristics of ...
Using the panic alarm
If you are near your vehicle and feel threatened, you may activate the panic alarm to call attention by pressing and holding the button on the Intelligent Key for longer than 0.5 seconds. The ...